Hi.
thanks for this service. I want to use your API in my app, but I faced with one problem, when I make request it seems that in response I have duplication.
example:
GET
https://api.openchargemap.io/v3/poi/?client=ocm.app.ionic.7.4.8&verbose=false&output=json&includecomments=true&maxresults=250&compact=true&boundingbox=(37.54513673542641,-77.46455311695473),(37.54751524559816,-77.44830288304615)
in response I recieved an array of 16 elements, but on map they apear as one charger:
and if close look on response it realy one charger, because the coordinates are the same and address also the same but every element have it own unique UUID.
How on map Front-end know that this is the same charger, and show it only once?
how can I filter to remove dublicates?
Thanks.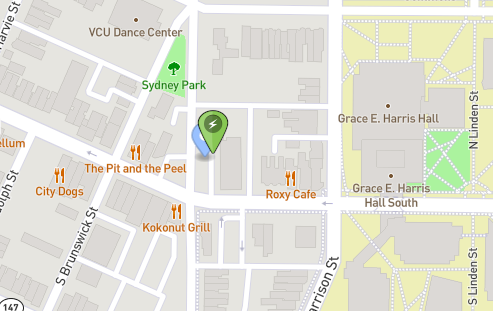 API response:
[{"IsRecentlyVerified":true,"DateLastVerified":"2020-08-22T05:51:00Z","ID":163371,"UUID":"599AEB21-A1F2-4EF6-8809-419C2D46D0AF","DataProviderID":1,"OperatorID":23,"OperatorsReference":"37188","UsageTypeID":4,"AddressInfo":{"ID":163728,"Title":"Pupatella","AddressLine1":"1 N Morris St","Town":"Richmond","StateOrProvince":"VA","Postcode":"23220","CountryID":2,"Latitude":37.546347,"Longitude":-77.456361,"ContactTelephone1":"(804) 355-3135","DistanceUnit":0},"Connections":[{"ID":234940,"ConnectionTypeID":30,"StatusTypeID":50,"LevelID":2,"PowerKW":12.0,"CurrentTypeID":20,"Quantity":2}],"NumberOfPoints":2,"GeneralComments":"2 Tesla Connectors, up to 12kW.Available for customers. Self park.","StatusTypeID":50,"DateLastStatusUpdate":"2020-08-22T05:51:00Z","DataQualityLevel":1,"DateCreated":"2020-08-22T05:51:00Z","SubmissionStatusTypeID":200},{"IsRecentlyVerified":true,"DateLastVerified":"2020-08-20T05:50:00Z","ID":163202,"UUID":"1C781B08-2ADC-432C-905A-E953672EDB29","DataProviderID":1,"OperatorID":23,"OperatorsReference":"37188","UsageTypeID":4,"AddressInfo":{"ID":163559,"Title":"Pupatella","AddressLine1":"1 N Morris St","Town":"Richmond","StateOrProvince":"VA","Postcode":"23220","CountryID":2,"Latitude":37.546347,"Longitude":-77.456361,"ContactTelephone1":"(804) 355-3135","DistanceUnit":0},"Connections":[{"ID":234760,"ConnectionTypeID":30,"StatusTypeID":50,"LevelID":2,"PowerKW":12.0,"CurrentTypeID":20,"Quantity":2}],"NumberOfPoints":2,"GeneralComments":"2 Tesla Connectors, up to 12kW.Available for customers. Self park.","StatusTypeID":50,"DateLastStatusUpdate":"2020-08-20T05:50:00Z","DataQualityLevel":1,"DateCreated":"2020-08-20T05:50:00Z","SubmissionStatusTypeID":200},{"IsRecentlyVerified":true,"DateLastVerified":"2020-08-17T05:35:00Z","ID":162807,"UUID":"78ED5DA5-A57B-4A71-AC9A-CFD3379BAABF","DataProviderID":1,"OperatorID":23,"OperatorsReference":"37188","UsageTypeID":4,"AddressInfo":{"ID":163164,"Title":"Pupatella","AddressLine1":"1 N Morris St","Town":"Richmond","StateOrProvince":"VA","Postcode":"23220","CountryID":2,"Latitude":37.546347,"Longitude":-77.456361,"ContactTelephone1":"(804) 355-3135","DistanceUnit":0},"Connections":[{"ID":234329,"ConnectionTypeID":30,"StatusTypeID":50,"LevelID":2,"PowerKW":12.0,"CurrentTypeID":20,"Quantity":2}],"NumberOfPoints":2,"GeneralComments":"2 Tesla Connectors, up to 12kW.Available for customers. Self park.","StatusTypeID":50,"DateLastStatusUpdate":"2020-08-17T05:35:00Z","DataQualityLevel":1,"DateCreated":"2020-08-17T05:35:00Z","SubmissionStatusTypeID":200},{"IsRecentlyVerified":true,"DateLastVerified":"2020-08-17T05:35:00Z","ID":162807,"UUID":"78ED5DA5-A57B-4A71-AC9A-CFD3379BAABF","DataProviderID":1,"OperatorID":23,"OperatorsReference":"37188","UsageTypeID":4,"AddressInfo":{"ID":163164,"Title":"Pupatella","AddressLine1":"1 N Morris St","Town":"Richmond","StateOrProvince":"VA","Postcode":"23220","CountryID":2,"Latitude":37.546347,"Longitude":-77.456361,"ContactTelephone1":"(804) 355-3135","DistanceUnit":0},"Connections":[{"ID":234329,"ConnectionTypeID":30,"StatusTypeID":50,"LevelID":2,"PowerKW":12.0,"CurrentTypeID":20,"Quantity":2}],"NumberOfPoints":2,"GeneralComments":"2 Tesla Connectors, up to 12kW.Available for customers. Self park.","StatusTypeID":50,"DateLastStatusUpdate":"2020-08-17T05:35:00Z","DataQualityLevel":1,"DateCreated":"2020-08-17T05:35:00Z","SubmissionStatusTypeID":200},{"IsRecentlyVerified":true,"DateLastVerified":"2020-08-15T05:37:00Z","ID":162732,"UUID":"F6F90AE5-26F5-46E3-AAAA-ED2ACBEB3364","DataProviderID":1,"OperatorID":23,"OperatorsReference":"37188","UsageTypeID":4,"AddressInfo":{"ID":163089,"Title":"Pupatella","AddressLine1":"1 N Morris St","Town":"Richmond","StateOrProvince":"VA","Postcode":"23220","CountryID":2,"Latitude":37.546347,"Longitude":-77.456361,"ContactTelephone1":"(804) 355-3135","DistanceUnit":0},"Connections":[{"ID":234243,"ConnectionTypeID":30,"StatusTypeID":50,"LevelID":2,"PowerKW":12.0,"CurrentTypeID":20,"Quantity":2}],"NumberOfPoints":2,"GeneralComments":"2 Tesla Connectors, up to 12kW.Available for customers. Self park.","StatusTypeID":50,"DateLastStatusUpdate":"2020-08-15T05:37:00Z","DataQualityLevel":1,"DateCreated":"2020-08-15T05:37:00Z","SubmissionStatusTypeID":200},{"IsRecentlyVerified":true,"DateLastVerified":"2020-08-15T05:37:00Z","ID":162732,"UUID":"F6F90AE5-26F5-46E3-AAAA-ED2ACBEB3364","DataProviderID":1,"OperatorID":23,"OperatorsReference":"37188","UsageTypeID":4,"AddressInfo":{"ID":163089,"Title":"Pupatella","AddressLine1":"1 N Morris St","Town":"Richmond","StateOrProvince":"VA","Postcode":"23220","CountryID":2,"Latitude":37.546347,"Longitude":-77.456361,"ContactTelephone1":"(804) 355-3135","DistanceUnit":0},"Connections":[{"ID":234243,"ConnectionTypeID":30,"StatusTypeID":50,"LevelID":2,"PowerKW":12.0,"CurrentTypeID":20,"Quantity":2}],"NumberOfPoints":2,"GeneralComments":"2 Tesla Connectors, up to 12kW.Available for customers. Self park.","StatusTypeID":50,"DateLastStatusUpdate":"2020-08-15T05:37:00Z","DataQualityLevel":1,"DateCreated":"2020-08-15T05:37:00Z","SubmissionStatusTypeID":200},{"IsRecentlyVerified":true,"DateLastVerified":"2020-08-15T05:37:00Z","ID":162732,"UUID":"F6F90AE5-26F5-46E3-AAAA-ED2ACBEB3364","DataProviderID":1,"OperatorID":23,"OperatorsReference":"37188","UsageTypeID":4,"AddressInfo":{"ID":163089,"Title":"Pupatella","AddressLine1":"1 N Morris St","Town":"Richmond","StateOrProvince":"VA","Postcode":"23220","CountryID":2,"Latitude":37.546347,"Longitude":-77.456361,"ContactTelephone1":"(804) 355-3135","DistanceUnit":0},"Connections":[{"ID":234243,"ConnectionTypeID":30,"StatusTypeID":50,"LevelID":2,"PowerKW":12.0,"CurrentTypeID":20,"Quantity":2}],"NumberOfPoints":2,"GeneralComments":"2 Tesla Connectors, up to 12kW.Available for customers. Self park.","StatusTypeID":50,"DateLastStatusUpdate":"2020-08-15T05:37:00Z","DataQualityLevel":1,"DateCreated":"2020-08-15T05:37:00Z","SubmissionStatusTypeID":200},{"IsRecentlyVerified":true,"DateLastVerified":"2020-08-15T05:37:00Z","ID":162732,"UUID":"F6F90AE5-26F5-46E3-AAAA-ED2ACBEB3364","DataProviderID":1,"OperatorID":23,"OperatorsReference":"37188","UsageTypeID":4,"AddressInfo":{"ID":163089,"Title":"Pupatella","AddressLine1":"1 N Morris St","Town":"Richmond","StateOrProvince":"VA","Postcode":"23220","CountryID":2,"Latitude":37.546347,"Longitude":-77.456361,"ContactTelephone1":"(804) 355-3135","DistanceUnit":0},"Connections":[{"ID":234243,"ConnectionTypeID":30,"StatusTypeID":50,"LevelID":2,"PowerKW":12.0,"CurrentTypeID":20,"Quantity":2}],"NumberOfPoints":2,"GeneralComments":"2 Tesla Connectors, up to 12kW.Available for customers. Self park.","StatusTypeID":50,"DateLastStatusUpdate":"2020-08-15T05:37:00Z","DataQualityLevel":1,"DateCreated":"2020-08-15T05:37:00Z","SubmissionStatusTypeID":200},{"IsRecentlyVerified":true,"DateLastVerified":"2020-08-15T05:37:00Z","ID":162732,"UUID":"F6F90AE5-26F5-46E3-AAAA-ED2ACBEB3364","DataProviderID":1,"OperatorID":23,"OperatorsReference":"37188","UsageTypeID":4,"AddressInfo":{"ID":163089,"Title":"Pupatella","AddressLine1":"1 N Morris St","Town":"Richmond","StateOrProvince":"VA","Postcode":"23220","CountryID":2,"Latitude":37.546347,"Longitude":-77.456361,"ContactTelephone1":"(804) 355-3135","DistanceUnit":0},"Connections":[{"ID":234243,"ConnectionTypeID":30,"StatusTypeID":50,"LevelID":2,"PowerKW":12.0,"CurrentTypeID":20,"Quantity":2}],"NumberOfPoints":2,"GeneralComments":"2 Tesla Connectors, up to 12kW.Available for customers. Self park.","StatusTypeID":50,"DateLastStatusUpdate":"2020-08-15T05:37:00Z","DataQualityLevel":1,"DateCreated":"2020-08-15T05:37:00Z","SubmissionStatusTypeID":200},{"IsRecentlyVerified":true,"DateLastVerified":"2020-08-15T05:37:00Z","ID":162732,"UUID":"F6F90AE5-26F5-46E3-AAAA-ED2ACBEB3364","DataProviderID":1,"OperatorID":23,"OperatorsReference":"37188","UsageTypeID":4,"AddressInfo":{"ID":163089,"Title":"Pupatella","AddressLine1":"1 N Morris St","Town":"Richmond","StateOrProvince":"VA","Postcode":"23220","CountryID":2,"Latitude":37.546347,"Longitude":-77.456361,"ContactTelephone1":"(804) 355-3135","DistanceUnit":0},"Connections":[{"ID":234243,"ConnectionTypeID":30,"StatusTypeID":50,"LevelID":2,"PowerKW":12.0,"CurrentTypeID":20,"Quantity":2}],"NumberOfPoints":2,"GeneralComments":"2 Tesla Connectors, up to 12kW.Available for customers. Self park.","StatusTypeID":50,"DateLastStatusUpdate":"2020-08-15T05:37:00Z","DataQualityLevel":1,"DateCreated":"2020-08-15T05:37:00Z","SubmissionStatusTypeID":200},{"IsRecentlyVerified":true,"DateLastVerified":"2020-08-13T05:31:00Z","ID":162644,"UUID":"189C11F1-D1E3-442F-8786-F733BC69C888","DataProviderID":1,"OperatorID":23,"OperatorsReference":"37188","UsageTypeID":4,"AddressInfo":{"ID":163001,"Title":"Pupatella","AddressLine1":"1 N Morris St","Town":"Richmond","StateOrProvince":"VA","Postcode":"23220","CountryID":2,"Latitude":37.546347,"Longitude":-77.456361,"ContactTelephone1":"(804) 355-3135","DistanceUnit":0},"Connections":[{"ID":234090,"ConnectionTypeID":30,"StatusTypeID":50,"LevelID":2,"PowerKW":12.0,"CurrentTypeID":20,"Quantity":2}],"NumberOfPoints":2,"GeneralComments":"2 Tesla Connectors, up to 12kW.Available for customers. Self park.","StatusTypeID":50,"DateLastStatusUpdate":"2020-08-13T05:31:00Z","DataQualityLevel":1,"DateCreated":"2020-08-13T05:31:00Z","SubmissionStatusTypeID":200},{"IsRecentlyVerified":true,"DateLastVerified":"2020-08-11T05:29:00Z","ID":162526,"UUID":"50CB7A91-52E5-49B6-B32A-2EA8162727AB","DataProviderID":1,"OperatorID":23,"OperatorsReference":"37188","UsageTypeID":4,"AddressInfo":{"ID":162883,"Title":"Pupatella","AddressLine1":"1 N Morris St","Town":"Richmond","StateOrProvince":"VA","Postcode":"23220","CountryID":2,"Latitude":37.546347,"Longitude":-77.456361,"ContactTelephone1":"(804) 355-3135","DistanceUnit":0},"Connections":[{"ID":233921,"ConnectionTypeID":30,"StatusTypeID":50,"LevelID":2,"PowerKW":12.0,"CurrentTypeID":20,"Quantity":2}],"NumberOfPoints":2,"GeneralComments":"2 Tesla Connectors, up to 12kW.Available for customers. Self park.","StatusTypeID":50,"DateLastStatusUpdate":"2020-08-11T05:29:00Z","DataQualityLevel":1,"DateCreated":"2020-08-11T05:29:00Z","SubmissionStatusTypeID":200},{"IsRecentlyVerified":true,"DateLastVerified":"2020-08-09T05:29:00Z","ID":162471,"UUID":"04352518-882C-46F0-93E4-246F9B914236","DataProviderID":1,"OperatorID":23,"OperatorsReference":"37188","UsageTypeID":4,"AddressInfo":{"ID":162828,"Title":"Pupatella","AddressLine1":"1 N Morris St","Town":"Richmond","StateOrProvince":"VA","Postcode":"23220","CountryID":2,"Latitude":37.546347,"Longitude":-77.456361,"ContactTelephone1":"(804) 355-3135","DistanceUnit":0},"Connections":[{"ID":233841,"ConnectionTypeID":30,"StatusTypeID":50,"LevelID":2,"PowerKW":12.0,"CurrentTypeID":20,"Quantity":2}],"NumberOfPoints":2,"GeneralComments":"2 Tesla Connectors, up to 12kW.Available for customers. Self park.","StatusTypeID":50,"DateLastStatusUpdate":"2020-08-09T05:29:00Z","DataQualityLevel":1,"DateCreated":"2020-08-09T05:29:00Z","SubmissionStatusTypeID":200},{"IsRecentlyVerified":true,"DateLastVerified":"2020-08-07T05:30:00Z","ID":162369,"UUID":"5FDDBA70-C120-462C-8487-FE438B720D3A","DataProviderID":1,"OperatorID":23,"OperatorsReference":"37188","UsageTypeID":4,"AddressInfo":{"ID":162726,"Title":"Pupatella","AddressLine1":"1 N Morris St","Town":"Richmond","StateOrProvince":"VA","Postcode":"23220","CountryID":2,"Latitude":37.546347,"Longitude":-77.456361,"ContactTelephone1":"(804) 355-3135","DistanceUnit":0},"Connections":[{"ID":233702,"ConnectionTypeID":30,"StatusTypeID":50,"LevelID":2,"PowerKW":12.0,"CurrentTypeID":20,"Quantity":2}],"NumberOfPoints":2,"GeneralComments":"2 Tesla Connectors, up to 12kW.Available for customers. Self park.","StatusTypeID":50,"DateLastStatusUpdate":"2020-08-07T05:30:00Z","DataQualityLevel":1,"DateCreated":"2020-08-07T05:30:00Z","SubmissionStatusTypeID":200},{"IsRecentlyVerified":true,"DateLastVerified":"2020-08-04T05:33:00Z","ID":162269,"UUID":"E9E3190F-D72D-44F7-98C6-14C9A06C8CE9","DataProviderID":1,"OperatorID":23,"OperatorsReference":"37188","UsageTypeID":4,"AddressInfo":{"ID":162626,"Title":"Pupatella","AddressLine1":"1 N Morris St","Town":"Richmond","StateOrProvince":"VA","Postcode":"23220","CountryID":2,"Latitude":37.546347,"Longitude":-77.456361,"ContactTelephone1":"(804) 355-3135","DistanceUnit":0},"Connections":[{"ID":233539,"ConnectionTypeID":30,"StatusTypeID":50,"LevelID":2,"PowerKW":12.0,"CurrentTypeID":20,"Quantity":2}],"NumberOfPoints":2,"GeneralComments":"2 Tesla Connectors, up to 12kW.Available for customers. Self park.","StatusTypeID":50,"DateLastStatusUpdate":"2020-08-04T05:33:00Z","DataQualityLevel":1,"DateCreated":"2020-08-04T05:33:00Z","SubmissionStatusTypeID":200},{"IsRecentlyVerified":true,"DateLastVerified":"2020-08-02T05:34:00Z","ID":162121,"UUID":"FF846416-528F-4E1B-B37C-3E100FD9F0B4","DataProviderID":1,"OperatorID":23,"OperatorsReference":"37188","UsageTypeID":4,"AddressInfo":{"ID":162478,"Title":"Pupatella","AddressLine1":"1 N Morris St","Town":"Richmond","StateOrProvince":"VA","Postcode":"23220","CountryID":2,"Latitude":37.546347,"Longitude":-77.456361,"ContactTelephone1":"(804) 355-3135","DistanceUnit":0},"Connections":[{"ID":233330,"ConnectionTypeID":30,"StatusTypeID":50,"LevelID":2,"PowerKW":12.0,"CurrentTypeID":20,"Quantity":2}],"NumberOfPoints":2,"GeneralComments":"2 Tesla Connectors, up to 12kW.Available for customers. Self park.","StatusTypeID":50,"DateLastStatusUpdate":"2020-08-02T05:34:00Z","DataQualityLevel":1,"DateCreated":"2020-08-02T05:34:00Z","SubmissionStatusTypeID":200},{"IsRecentlyVerified":true,"DateLastVerified":"2020-07-31T05:45:00Z","ID":161996,"UUID":"959F7D93-5769-497D-9C90-350B155AE27C","DataProviderID":1,"OperatorID":23,"OperatorsReference":"37188","UsageTypeID":4,"AddressInfo":{"ID":162353,"Title":"Pupatella","AddressLine1":"1 N Morris St","Town":"Richmond","StateOrProvince":"VA","Postcode":"23220","CountryID":2,"Latitude":37.546347,"Longitude":-77.456361,"ContactTelephone1":"(804) 355-3135","DistanceUnit":0},"Connections":[{"ID":233154,"ConnectionTypeID":30,"StatusTypeID":50,"LevelID":2,"PowerKW":12.0,"CurrentTypeID":20,"Quantity":2}],"NumberOfPoints":2,"GeneralComments":"2 Tesla Connectors, up to 12kW.Available for customers. Self park.","StatusTypeID":50,"DateLastStatusUpdate":"2020-07-31T05:45:00Z","DataQualityLevel":1,"DateCreated":"2020-07-31T05:45:00Z","SubmissionStatusTypeID":200}]